MEET DR. ABDELRAZEQ MARABEH
As far as his career goes, Dr. Abdelrazeq can't picture himself doing anything other than dentistry. He received his undergraduate degree from the University of California San Diego and completed his residency at a trauma center in New York City. When he got tired of New York's harsh winters, he returned to San Diego to enjoy the warm weather and brighten smiles on the West Coast again. When he's not at work, Dr. Abdelrazeq loves going deep-sea fishing and surf fishing. He also loves to body surf and catch a few waves at Del Mar beach with his wife and twins.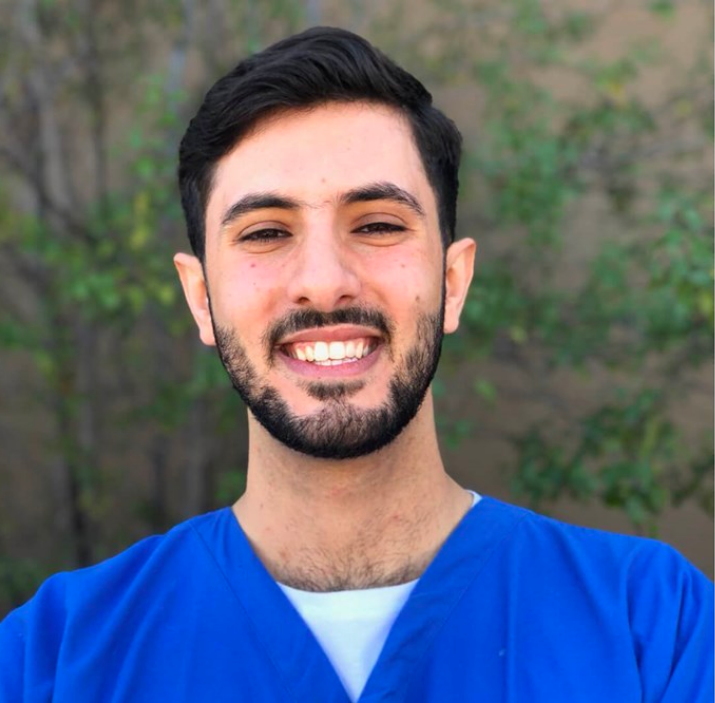 Why did you become a dentist?
Growing up, I always knew I had a science mind. And as I grew older, I enjoyed working with my hands, helping people, and wanted to do something in health care. That's when I realized as a dentist I could help patients relieve pain, discover their ideal smile, and ultimately feel comfortable and happy at the dentist's office. The rest is history.
Where did you go to dental school?
Here's a cool story for you. I grew up right here in Rancho Bernardo and went to Rancho Bernardo High School. I attended University of California San Diego undergrad and finally got out of town to complete dental school at NYU. Following NYU, I completed a surgical and dental residency at a level one trauma center in New York City. After experiencing the four seasons in New York, I was happy to return to sunny San Diego to build my career.
What is your favorite part of your dental practice?
I love seeing my patients as a whole. Meaning, I want my patients to feel comfortable, relaxed, and understand exactly what they want and need done to their teeth to make them feel their best. Also, since I'm born and raised in Rancho Bernardo, it brings me great joy to give back to the same community that raised me. I feel at home here and I hope I make every patient feel as if they have a home at Dental Express too.
What are your passions outside of dentistry?
Well, I have two twin boys and a wonderful wife, so I'd say my greatest passion is family. There's no greater joy than spending a day at the beach with the ones I love. Whether fishing, paddle boarding, or just enjoying the ocean and sun, I love being outside with my family. I wouldn't trade this life for any other.
What do you enjoy most about working at Dental Express?
I love the support system Dental Express provides. My team gives me the freedom to practice what I love and the encouragement to provide my patients with the best possible care I can. In dentistry these days, that's not a given. So I really appreciate the teamwork and collaboration I have at work every day.
How do you help cultivate the Dental Express team?
I treat everyone the way I want to be treated. That applies to my team and my patients. Since I was given the opportunity to open the Rancho Bernardo/Poway office from scratch, I'm able to work closely with the team and encourage everyone to work together. When a patient sees how close the Dental Express team is, I can immediately see their level of comfort go up.
What would you say is the highlight of your career?
I would have to say growing clinically. Dental Express has made it possible for me to expand my skill set and knowledge. Trusting in me to open a new office is a fantastic experience and I'm learning every day.
Of Dental Express' five core values (integrity, empathy, adaptability, collaboration, and whistle while you work) which do you feel is the most valuable to you as a dentist?
Definitely adaptability. If a dentist is adaptable, they will be successful. In dentistry, no two patients are the same. They may have similar needs, but their emotions, their expectations, and their experiences are all different. This means I have to practice adaptability every day. It also helps me keep an open mind to learning, which is the key to becoming a better dentist.
What is your greatest challenge working as a dentist?
What is really hard for me is seeing a patient who has a dental issue that I'm able to fix, and because of insurance or financial circumstances, they prolong the procedure. But this is another part of the Dental Express team that I love. Any time there is a patient in need, our team does our best to reach out to their insurance and find a solution. And if insurance can't help, Dental Express has great financing options to make sure our patients get the care they want and need.
Muhammad Ali. He's a man who spoke the truth. And that's how I live my life — at home, in public, and at work.