Dr. AJ Hansen was born and raised in CA (Napa Valley), and enjoys all aspects of general dentistry and the variety of procedures for family dentistry from kids to adults –especially esthetic cases. She also has a passion for helping others and giving back to the community and those in limited access to dental care (she has been to Samoa, Peru, and Ecuador on dental mission trips, and volunteered at Give Kids a Smile and Mission of Mercy). Dr. Hansen wanted to be a dentist at a young age and enjoys that dentistry provides a mix of science and artistry.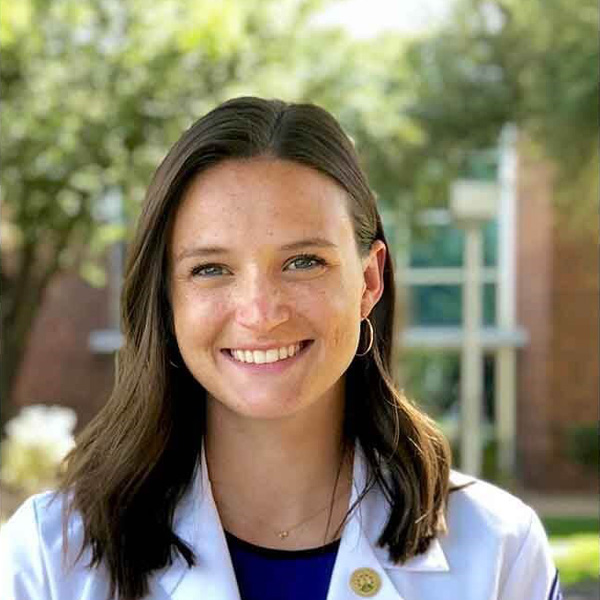 Why did you become a dentist?
Ever since I was young, I've always had a fascination with teeth. I kept all my baby teeth and I loved to study them. As I got older, I had my fair share of teeth problems and surgeries, and watching my dental health improve really sparked my interest in dentistry. I love how it combines artistry and science, and I knew I wanted a career that allowed me to help my community. So, dentistry was a perfect fit.
Where did you go to dental school?
I grew up in Napa Valley, Northern California, but I moved south to attend college at San Diego State. I got my undergraduate degree in biology and then went to Midwestern University in Arizona for dental school. Once I graduated, I went right back to San Diego to start my professional career.
What is your favorite part of your dental practice?
I think my favorite part is working on patients who have a negative outlook on dentistry. I love being the helpful influence that changes their outlook to be more positive. There's nothing like helping people get over their fear of the dentist.


Also, there's such a stigma around dentistry, I always do my best to make my patients feel understood and cared for. Helping someone overcome a past negative experience can have a life-changing impact, and I love being a part of that.
What are your passions outside of dentistry?
When I have time off, you can usually find me traveling the world. Of all the places I've visited, Bali and Greece are two of my favorites. I also love horseback riding, trying new restaurants, and spending time at the beach, which is what drew me back to San Diego after finishing my education.
What do you enjoy most about working at Dental Express?
I love the environment and the people I work with. The Dental Express team is like a second family. Everyone lifts each other up, works well under pressure, and puts our patients first. We're always encouraging each other to grow as professionals, and we do our best to create a positive workplace. We have such a great group and I think that's what really sets us apart.
How do you help cultivate the Dental Express team?
I'm that coworker that's always spreading positivity around the office. I love building my teammates up, especially on rough days. It gets stressful out there and it's easy to forget why we do what we do, so I'm always there to help out or give a quick pep talk.

If someone wants to be taught, I'm more than happy to teach them something new. And it's not always easy, but I lead by example whenever I can. Sometimes just being that source of positivity can have a big impact on the rest of the team.
What would you say is the highlight of your career?
It's hard to pick a single moment, but it's always special whenever a patient comes back to the office and talks about how we changed their life for the better. You can visibly see how much it helps with their confidence, they can't stop smiling. We work hard every day to serve our community, and these moments make all the challenging days that much more worth it.
Of Dental Express' five core values (integrity, empathy, adaptability, collaboration, and whistle while you work) which do you feel is the most valuable to you as a dentist?
Empathy is most important to me, personally. We have to be able to relate to our patients and understand where they're coming from. Every patient is in a different situation and needs a unique solution, and putting ourselves in their shoes is the first step to providing them the quality care they need.


Going to the dentist can be stressful. It's tough, but meeting my patients' dental needs within the bounds of their budget is always my main goal. To do that, you have to start with empathy. It lays the foundation for the other four core values.
What is your greatest challenge working as a dentist?
I struggle sometimes when I have patients who have their walls up. And I can't blame them of course. There are so many people out there who give dentistry a bad name. So I have to focus on showing them how we can be better rather than telling them. So much of dentistry is just listening to people's needs, and the rest is about doing what's right. If you treat people like family and lead by example, it can turn what was a negative experience into a positive one.
My parents are my heroes. Growing up watching them work hard, go to school, and build their own practice from the ground up taught me so many valuable lessons about life. They taught me how to value my education, make the most of my opportunities, and manage a team. They showed me the importance of hard work, and I wouldn't be who or where I am in life without them. Thanks mom and dad!