A San Diego native, Dr. Angeline returned to the area to be closer to her family after graduating from the San Francisco School of Dentistry. Her passion is opening the door to a healthier lifestyle for her patients by improving their dental health. Off the clock, Dr. Angeline loves hiking, camping, and going to Zumba class.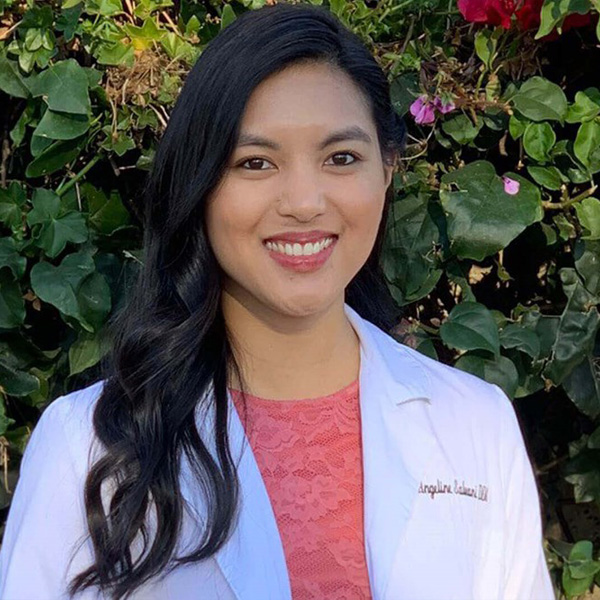 Why did you become a dentist?
Growing up, I knew I wanted to help people. My uncle was a dentist and when I saw how many lives he touched and how in charge of his life he was, it inspired me to become one myself! I love building relationships with my patients, and seeing their oral health transform over the years is the ultimate sense of fulfillment.
Where did you go to dental school?
I was born and raised in San Diego, a true native. I moved to the Bay Area for college and went on to complete dental school at University of California, San Francisco. Once I got my Doctor of Dental Surgery degree, I did an upgrade at University of California, Berkeley.
What is your favorite part of your dental practice?
I love being able to help people. Helping my patients feel better about themselves. Relieving their pain. Giving them confidence in their smile. Just getting to be a part of someone's journey to better health.
What are your passions outside of dentistry?
I love being outdoors. Hiking, biking, camping, going to National Parks. I'm also getting into tennis and loving it so far!


My other passions are my husband and my family. My husband and I met in the Bay Area and we moved back to San Diego to be closer to family
What do you enjoy most about working at Dental Express?
My favorite part about working at Dental Express is the team environment. Everyone gets along and supports each other like one big family. True to our "Whistle While You Work" value, you can tell everyone has fun here. And working with the other doctors always helps improve and gain new skills.
How do you help cultivate the Dental Express team?
I bond with the team and practice open communication. Leading by example is what makes the difference. Having conversations, doing group activities, and celebrating each other's accomplishments is what really makes the team stronger. We love having fun outside of work and have barbecues, baby showers, Secret Santa every Christmas, you name it.
What would you say is the highlight of your career?
I've been with Dental Express for a little over a year now, and the highlight of my career is hearing nervous patients talk about how we helped them feel comfortable. When we help someone conquer their dental fears, it's an empowering experience for them and an unforgettable experience for me as a dentist.
Of Dental Express' five core values (integrity, empathy, adaptability, collaboration, and whistle while you work) which do you feel is the most valuable to you as a dentist?
My first choice would be Collaboration. When the front and back office communicate and work together in harmony, it makes our job easier and more efficient. Helping each other strengthens our sense of purpose and allows us to give our patients the best possible experience every time. 


Second would be whistle while you work, because having a passion for what you do is what makes work fun!
What is your greatest challenge working as a dentist?
My greatest challenge is trying to solve all of my patients' problems in one sitting. I wish I could just sit down and take care of all their needs in one go, but unfortunately it doesn't always work that way.
My Mom and Dad. As immigrants from the Philippines, they sacrificed so much to give me the best life they could, making sure I could become as successful as I am today. Even now as adults, they work hard every day to stay in my life and keep encouraging me to do great things. And even now as adults they are working hard to stay in our lives and encouraging us to do great things.