Dr. Danielle considers herself lucky to have a career where she can help people feel better about themselves. Her top priority is improving the oral health of her patients by providing the highest quality dental care possible and making sure they feel comfortable and cared for during the entire process. To do this, she takes the time to thoroughly answer patients' questions and listen to their concerns, provides helpful education about treatment options, and uses her experience and knowledge to restore patients' smiles. She also loves helping pediatric patients feel comfortable and relaxed throughout their treatments.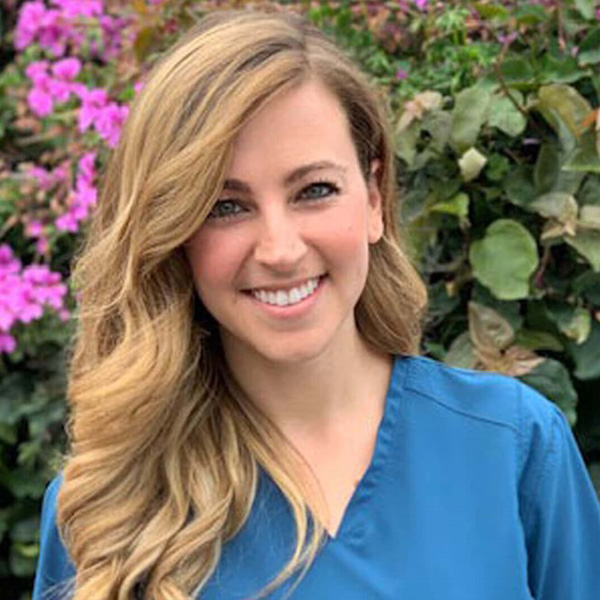 Why did you become a dentist?
I always knew I wanted to do something in the medical field. So when my sister who is six years older than me went to dental school, I was inspired.  At that time, I was in high school. I watched her journey and saw how much she loved it. Her passion and joy really got me thinking about dentistry as a career. I guess I have my sister to thank for getting me into this career that I love so much.
Where did you go to dental school?
I grew up in Arizona and my parents were in the military, so when I was young we moved around a lot. When we finally were placed in the reserve, we got to stay in one place. So that's where I call home, but when I had the chance to go to the University of San Diego for undergrad, I took it. Then, I moved to the University of Texas in Houston for dental school.


Here's a fun fact: I met my husband in college and he's the reason we moved back to San Diego right after dental school. We loved sunny San Diego and wanted to be close to the community we called home for so long during college. And today we are raising our family here as well. I love this city.
What is your favorite part of your dental practice?
What I find most rewarding about dentistry is when patients have had bad experiences, anxiety, or fear of the dentist, and then after talking with me, telling me their story, I'm able to make them feel comfortable. And it's even more amazing when after four or five appointments their anxiety is completely gone and they actually enjoy coming to Dental Express to see their dentist. This is such a great feeling and definitely the best part about coming to work.
What are your passions outside of dentistry?
Well, I'm a new mom. I have a five-month-old son and my passion is spending time with him. I pass most of my free time with my family: my husband and son. We go hiking, we take our son to the beach, we walk around Point Loma, and we just enjoy and cherish each other's company. It's also very nice to live so close to work. I feel connected with the community that I serve, which is super important as a dentist. Having that intimate relationship with your patients and understanding where they come from makes for a truly unforgettable dental experience.
What do you enjoy most about working at Dental Express?
It's very much a fantastic environment. I love our dedication to putting our patients first. And I really appreciate how apparent our patient-focused philosophy is every step of the way. Everything we do at Dental Express is focused on empathy.  This is an attribute that is not too common in dentistry and it's a pleasure to work for a dental office that puts the patients' needs and wants before all else.  Empathy really sets the path for everything else we do at Dental Express.
How do you help cultivate the Dental Express team?
I definitely try to have a good attitude all the time. I believe that a positive attitude is contagious. So if I bring my best every day, then this will spread throughout the office. Plus, I always try to remind my peers that we are an amazing team and we can each learn something from someone else. I know I'm always learning from them. Each day a new team member teaches me something new. I'm learning new aspects of dentistry. I'm growing as a dentist and as a person. I believe that if we all work to stay humble and open-minded we can learn from everyone and this will only make our family dental practice more inviting and comfortable.
What would you say is the highlight of your career?
The highlight of my career so far was my graduation from dental school. It was one of the hardest things I've ever done, mentally and emotionally. But the best part of this experience was when I finally walked. The school allowed my sister to be there to hand me my diploma.  So my story of wanting to walk in her footsteps had gone full circle and I knew I was becoming part of a profession that I had always dreamed of. That moment really sticks out in my career.
Of Dental Express' five core values (integrity, empathy, adaptability, collaboration, and whistle while you work) which do you feel is the most valuable to you as a dentist?
I would say empathy all the way. Because as I said before, showing empathy to patients is the most important part of dental care. This value of empathy becomes ever more apparent when I go see my dentist, who is actually a friend of mine. Even with all my experience and my dentist being my friend, I still feel vulnerable when I'm in the patient's chair.  Knowing that patients allow me to work on them, trust me to take care of their teeth, I take this role very seriously and do my best to put myself in the patient's shoes. That means I'm constantly making sure I give my best to the patient.
The second most valuable to me as a dentist is whistle while you work. I love being in a dental office always having fun. Coming to work in a place that values fun is so important to me. And I think it makes a big difference as to how our patients experience our office.  
What is your greatest challenge working as a dentist?
I love being a general dentist because I can do so much: wisdom teeth, crowns, many other things. But I always want to expand my knowledge and do more training and take more courses, continually getting more education so I can serve my patients better. Unfortunately, with a full workload and a new baby, it's sometimes difficult to stay up on the latest and greatest training to advance my knowledge.  With that said, Dental Express is really good at helping us take the time we need to pursue further education. Again it's another reason I love Dental Express.
My mom. She was a colonel in the Airforce and worked in aircraft maintenance. At the time, there were very few women in this field. So she showed and taught us not to live with limitations. Always try our best. Don't allow others to place their expectations and limits on you. She always said that the only limitations are the ones we put on ourselves. My sister and I are successful because of her.