Dr. Jay Scott Lopp's passion for dentistry began as a 12-year-old boy. Having crooked teeth, Dr. Lopp needed braces. Little did he know that watching his teeth straighten over the course of a few years would drive his love for dentistry for the rest of his life. A graduate of the University of Missouri School of Dentistry in Kansas City, Dr. Lopp came to San Diego to serve in the U.S.Navy as a Lieutenant in the Naval Dental Corps. After his active duty service at NAS Miramar, Dr.Lopp met and married his wife Carmen. Today, Dr. Lopp has over 30 years of experience as a dentist and is still happily married to Carmen. They have two beautiful daughters and they love spending time skiing, watching movies, and eating out as a family. Dr. Lopp is a family man and that's why he fits so well into the Dental Express team. Getting to know patients, understanding their concerns, and helping them discover their ideal smile are just a few of the pleasures that motivate Dr. Lopp to love what he does every day at Dental Express. Come meet Dr. Lopp at our Santee location and see why we believe in him so much.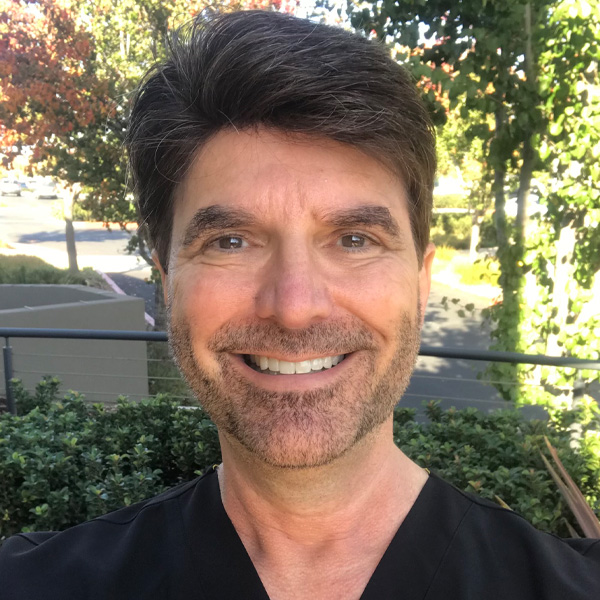 Why did you become a dentist?
Well, when I was a kid, I had bad, crooked teeth. So at 12-years old, I got braces. Over the course of a few years as I watched my teeth straighten out, I dreamed of becoming an orthodontist. I wanted to help other people have straighter teeth. At the end of high school, I started researching how to become an orthodontist. What I found out was that I had to go to dental school and become a dentist before I could be an orthodontist.  And now, 30+ years later, I'm still a dentist! I feel in love with helping people do much more than just have straighter teeth. I realized being a dentist allowed me not to limit myself. It gave me the freedom to do so much more.
Where did you go to dental school?
I grew up in Missouri and graduated with a bachelor's in science from Southeast Missouri State University. After undergrad, I completed my Doctor of Dental Surgery from the University of Missouri-Kansas City School of Dentistry. But my education didn't finish there — I went on to serve as a Lieutenant in the U.S. Navy Dental Corps NAS right here in Miramar, San Diego.
What is your favorite part of your dental practice?
Definitely getting to know my patients. I love the process of meeting a new patient, trying to understand their concerns, making them feel comfortable, then helping them discover their ideal smile. Also, I love doing cosmetic dentistry, such as crowns and bridges. I've realized over the years that these types of treatments are so important to my patients. And I feel that I'm helping them have the same experience I had when I was young, seeing my teeth straighten and feel so much more confident in my smile. I like to joke and say that the work I do is like 'instant orthodontics." I love to see my patients happy with the work we've done.
What are your passions outside of dentistry?
Family. I come from a big family and I cherish my family. I have a beautiful wife and two daughters and I enjoy doing anything that involves them. One thing we love to do as a family is skiing. I started skiing at age 40 and I'm ready to go skiing anytime, anywhere.  The only requirement is that it's a family event. We also love to go to movies and eat out, and during these difficult times, we've become take-out professionals.
What do you enjoy most about working at Dental Express?
I love the family atmosphere. When I joined the Dental Express team, I felt like I was adopted into this close-knit family. In the office, I love laughing, working, and finding ways to uplift our team and patients. And after 30+ years as a dentist, I still love coming to work every day. I'm still growing and learning new things every day. Dental Express makes that possible.
How do you help cultivate the Dental Express team?
I lead by example. I believe teaching, showing respect, and appreciation are all ways to grow our team. I find great joy in helping others who want to learn, gain more experience, and expand their knowledge. Dentistry is changing every day, and it's my duty to be open to learning new things and pass my knowledge on to others. This is how we foster strong relationships as a team.
What would you say is the highlight of your career?
I recently helped a young man with his chipped teeth. He had such a beautiful smile, but he was nervous to share it with the world because his two front teeth were chipped. One of my assistants, Donna, was helping me prepare the molds for the temporaries. And we knew this would make a big difference for the young man. When he came back to have his temporary teeth placed and saw himself in the mirror the first time, he lit up with joy, as if we had changed his life. And I thought to myself, this is only the temps; he will have this feeling for the rest of his life. I was able to help someone discover their beauty. Moments like this are the highlight of my career.
Of Dental Express' five core values (integrity, empathy, adaptability, collaboration, and whistle while you work) which do you feel is the most valuable to you as a dentist?
Wow. That's a tough question. I'd have to say, since I'm a Disney fan, whistle while you work. In dentistry, a positive, friendly, happy environment is so important for the patient's experience. I want to always provide a comfortable, family-like office. Dental Express does this better than anywhere I've ever worked. After whistle while you work, integrity and empathy are in a close run for second. I always ask myself 'would I give this same treatment or suggestion to my mom?' If the answer is yes, then I know I'm offering the most honest, loyal service I can provide. It's my way of doing a self-check up.
What is your greatest challenge working as a dentist?
My greatest struggle has always been overcoming hesitation, stretching myself to do new things.  As the dental industry evolves, we as dentists have to change with the times. We have new technology, new procedures, and new protocols to learn and follow. And I've been doing this a long time. At Dental Express, Dr. Casey expects more from me. He pushes me and helps me grow. He gives me the tools and the confidence to become a better dentist.  So that's my greatest challenge and Dental Express has helped me find the solution
My mom and dad.  My parents have been fantastic role models: Dad has always taught me to be friendly, forgiving, relaxed and kind; and Mom has instilled in me the value of following my dreams. Both my parents have encouraged me to do what I love. Even when I dreamed of becoming an actor (which is my secret dream), my parents always supported me. It's these same attributes that I try to pass on to my daughters and hopefully they will do the same for their families one day.