Dr. Raufy has always called San Diego home. And just like Dr. Michelle, his dentistry journey turned him into a coast to coast traveler. After completing his undergraduate career at the University of California San Diego, he moved to New York to pursue a master's degree at NYU and he completed his training at NYU College of Dentistry. But San Diego was calling him home. So, he packed up and brought his passion for patient-focused dental care back to San Diego. Every day, Dr. Raufy strives to give his patients the most comfortable, relaxed, and educational dentist experience possible. When he's not in the office, he loves enjoying the outdoors and binging Netflix shows with his wife and son, and he does his best never to miss a Padres or a Lakers game.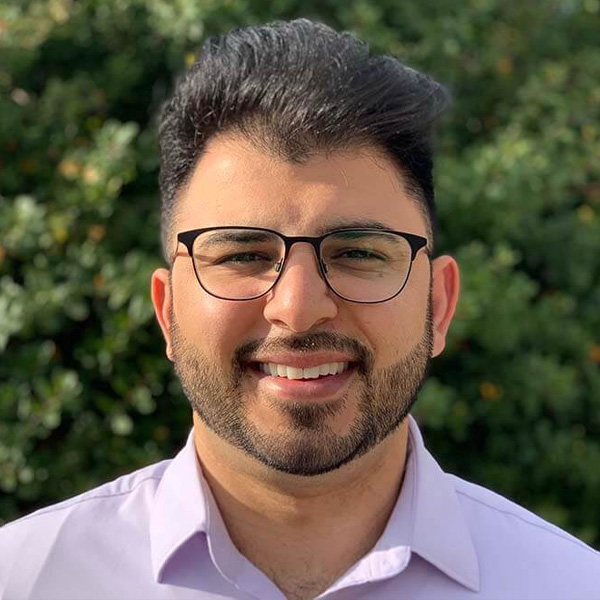 Why did you become a dentist?
That's an easy one. I love taking care of people, and fixing their smiles is such a satisfying process. It's incredible to see just how much you can change someone's life in such a short amount of time. That's one of the reasons I fell in love with dentistry.
Also, my family is from Afghanistan. My father was supposed to go to med school after high school, but the Russian invasion threw a wrench in that plan. A big motivational factor for me was being the first member of my family to become a doctor. I wanted to make my family proud and serve my community, and that's what fueled my desire to pursue dentistry.
But the moment everything fell into place was when I shadowed my mentor, who was a friend of my father's. It was such an eye-opening experience. I saw his patients' mood and confidence do a complete 180 after treatment, and I knew this was the right path for me.
Where did you go to dental school?
I was born in Afghanistan, but my parents made the move to America and we settled in San Diego, which is where I grew up. I got my undergraduate degree in Physiology and Neuroscience at the University of California San Diego and then left home to pursue my master's in New York City. I finished dental school at New York University and came straight back to San Diego. As soon as I got back, I didn't waste any time. I went straight to work to serve the community where I grew up.
What is your favorite part of your dental practice?
I'd have to say my favorite part is the gratification from relieving someone's pain, improving their dental health, and changing their life as a result. That's where my passion for dentistry comes from. It never ceases to amaze me how in just a few moments, I can give someone a new lease on life by providing quality dental care. That satisfaction is what drives me to keep fostering healthy smiles and grow as a provider.
What are your passions outside of dentistry?
Outside the office, you'll either find me watching sports or spending time with my wife and two-and-a-half-year-old son. I'm a huge sports fan and I love watching the Padres and Lakers.
Living right next to the park is perfect for quality time with the family. I love watching my son grow and teaching him new things. Right now we're teaching him how to play basketball, and it's so exciting to see him learn new words. As much as we love spending time outdoors, a good movie night or Netflix binge is just as fun.
What do you enjoy most about working at Dental Express?
I've never been a part of a team as enjoyable to work with as my Dental Express team. I love my colleagues. They're always a pleasure to work with, even on difficult days. No matter what challenges come up, we always stay upbeat, lift each other up, and make sure patients are taken care of. And of course, we do it with a smile and a positive attitude. Our dedication to providing a quality patient experience makes every day at Dental Express a new opportunity to change people's lives. That's why I love going to work!
How do you help cultivate the Dental Express team?
I love educating my team and helping them grow into better providers. In an evolving field like dentistry, you can study for decades and still not know everything. So, any time I can teach something to my colleagues, I will. And the same goes for learning new things. The more we know as a team, the better prepared we can be for anything that comes our way.
I also do my best to lead by example and make sure that anyone who interacts with me can use what they learned to help us grow as a clinical team. My desire to change lives fuels my motivation and drives me to continue learning and growing. I want my motivation to inspire my team to perform at their best. The better we perform, the more smiles we can fix and the more we can change the San Diego community for the better.
What would you say is the highlight of your career?
It's hard to say. There've been so many great moments along the way, but there is one that stands out. I had a patient whose teeth were a mess. He'd been trying to recover from abuse problems and was looking to turn his life around. To get his dental health back on track, I went from doing a full extraction to twelve interior crowns, building up all his back teeth, and giving him a lower partial denture. Now every time he comes in, he thanks me and compliments me on my work. That right there is exactly why I do what I do. The feeling of accomplishment and fulfillment from helping him and patients like him is indescribable.

I mentioned before that I was the first member of my family to become a doctor. That was definitely a huge accomplishment for me as well. I hope my achievements will serve as an example and inspiration for members of my family now and in the future.
Of Dental Express' five core values (integrity, empathy, adaptability, collaboration, and whistle while you work) which do you feel is the most valuable to you as a dentist?
Personally, Collaboration is the most valuable. It's a huge thing for me. You always want everyone on the team to be on the same page. It's so important if you want to make sure things are done properly. That's what I love about Dental Express. From when a patient sets their appointment to when they sit down in the dentist's chair, every member of the team works together to make sure things are organized and in line for a quality visit. The patient experience is as seamless as possible.

And Empathy comes in at a close second. Caring for our patients like family is what truly sets us apart. When they come in for an appointment, our patients trust us with their smiles and know they'll receive nothing less than top-notch dental care.
What is your greatest challenge working as a dentist?
Right now, my personal goal is to get better at molar root canals. I'm always looking for ways to improve my skills as a dentist. But overall, I love what I do so much, I struggle with the fact that dental care is so expensive. I just wish I could offer free dentistry. That's why I work hard with insurance companies to find the most affordable option for my patients. I want every single one of them to get the care they need without having to worry about their wallet.
My mom and dad are my biggest heroes in life. Like I said, my dad's med school plans were cut short, and my mom wasn't able to go to school. They had a rough life, but they fought through. They came from nothing to moving to America, becoming successful, raising three kids, and showing me how to raise my family. Today, my dad's a business owner and my mom owns a daycare. They will always be my heroes, and even now, they continue to push me to do new things and expand my knowledge.