Dr. Pooja's love for dentistry started as a child when her uncle showed her around his dental practice in New York. After shadowing her general dentist in high school, she decided dentistry was the career for her. Dr. Pooja has a deep appreciation for the artistic aspects of dentistry and loves developing meaningful relationships with her patients. When she's not at the office, she loves cooking, exploring new restaurants in San Diego with her husband, taking walks with her twin girls, and playing with her Goldendoodle Louie.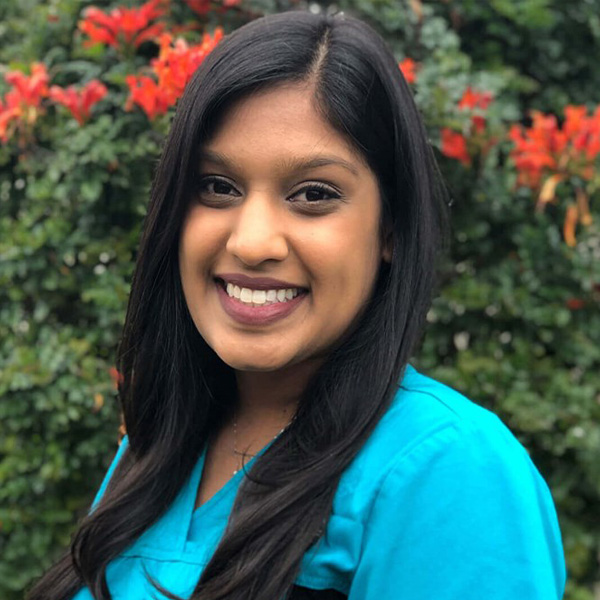 Why did you become a dentist?
Growing up, becoming a dentist was my childhood fascination! My uncle owned a dental practice and I was amazed watching him work on his patients' teeth. So, I guess you could say I wanted to be like him when I grew up. Then, in high school, I started shadowing at a family dental office. That's where I fell in love with working with my hands. I realized dentistry was an art form, which allowed me to express myself and help people at the same time. Plus, I really appreciate the work-life balance of being a dentist. So I worked as hard as possible to turn my fascination into my reality. And here I am today!
Where did you go to dental school?
I grew up in St. Louis, Missouri and I stayed close to home for my undergraduate. I completed four years at St. Louis University — then went on to finish dental school at the University of Kansas City School of Dentistry. And here's a fun fact: my college sweetheart, who is my husband today, is the reason I moved to San Diego. I'm so grateful to be living in San Diego and raising my family here. It's such a beautiful city!
What is your favorite part of your dental practice?
Wow… There's so much I love about Dental Express! I'd have to say my favorite part is the relationships I build with my patients. I've been with Dental Express for three years and it's unlike any other practice I've worked with. Here, I'm not just a dentist — I'm part of a family. And I feel as if each Dental Express team member becomes part of this ever-growing family — and that includes our patients as well!
My second favorite part of working at DE is that they push me to explore dentistry as an art. This means they give me the freedom to push my limits, learn new things, and challenge myself to solve problems other practices would just refer elsewhere. At Dental Express I'm encouraged to continue growing every day. It's truly a pleasure to work here.
What are your passions outside of dentistry?
I have two twin girls, and they are my passion. Taking care of them is what I love most about life. I also have a pet Golden-doodle that I take on adventures with me. If you're a fellow dog owner, I'm sure you know the pleasure this brings.


My other passions are dancing and working out. As a kid, I was very involved with South Indian classical dance, and I've always been a lover of Bollywood. Today, while I'm doing my workouts, I usually add a little Bollywood dancing at the end to keep my skills fresh. Once again, this all points back to my love of the arts. And dancing is yet another form I use to express myself!
What do you enjoy most about working at Dental Express?
I love the people I work with. We have a big team, but we are as close as a small family. Working together and collaborating is the name of the game at Dental Express. I especially like working with other doctors to find ways we can create a more comfortable environment — one that creates less stress for our patients. We work every day to build our team, as well as finding ways to grow and learn.
How do you help cultivate the Dental Express team?
I help cultivate the team by complimenting others and showing appreciation for their hard work. Without the support of my team, I would be lost. When we work as a team,  we are stronger together. And that strong bond is evident to our patients. It serves as an example of how we treat patients— always with kindness and care.


On another level, I also cultivate my team by always assisting when I can, and helping others grow. At the end of the day, it all comes down to treating others the way you want to be treated. That's how I live my life, and it has always served me well.
What would you say is the highlight of your career?
Before working at Dental Express, I was working for another dental office that never let me reach my full potential. It was really hard for me to watch other dentists who were given the flexibility to expand their skill set and become more well-rounded, all while I was stuck doing the same things day in and day out. 


Dental Express has freed me from this struggle. In the last three years, I've made leaps and bounds regarding my experience and confidence to face new challenges. Because, as you may know, dentistry is constantly changing. As dentists, we have to be able to adapt and learn new things all the time.
Of Dental Express' five core values (integrity, empathy, adaptability, collaboration, and whistle while you work) which do you feel is the most valuable to you as a dentist?
Well, I have three answers: one for the patients, another for my team, and a third for me. When it comes to patients, empathy is the value I most identify with. Listening, understanding, and providing quality dental care without judgment. These elements of empathy mean so much to me, because this is how I would want to be treated. So that's the way I work with patients. 


When thinking about my team, I would have to say the value that is most important to me is collaboration. As I've mentioned, if we don't work together, it's impossible to deliver the best dental care. If we work as one we can achieve anything!


Now for me. I love the value of 'whistle while you work.' This idea resonates with me. It reminds me to stay positive and ask myself, 'How can I work to keep the team upbeat?' or 'How can I lend a helping hand?' And I'll say it again — when we follow these values our patients can feel a difference.
What is your greatest challenge working as a dentist?
Helping patients overcome their fear of myself, and dentists everywhere. When I meet a patient who has had a bad experience at the dentist, my priority is to make them feel comfortable, relaxed, and aware of our intentions. When you see someone who is afraid, it's really hard to change their mind immediately. So I always remind myself, and my patients, that it's a process. As a team, we can get through this together. And that's really just it — Dental Express works as one with the patients.
I have two! First, my dad. He's the most hard-working, loyal, and dedicated man I know. He came to America as an immigrant with little money. And through hard work and dedication, he gave me the opportunity to become anything I wanted. He never gave up on giving me the best education, the right values, and the desire to be who I wanted to be in this life.


Second, my husband. He's another extremely hard-working man. He is loving, caring, and always supports me. He works all day and still finds the energy to help me by contributing around the house and with our girls. He's such a great partner and I'm blessed to have him in my life.