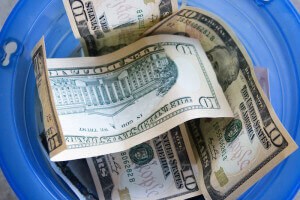 Imagine taking a one hundred dollar bill out of your wallet and throwing it in the garbage. You'd never do that, right? It's ridiculous! However, if you aren't taking advantage of all your dental benefits, you're essentially doing the same thing. These benefits—which typically include two cleanings a year—are vital to a healthier mouth and helping you avoid more extensive (and expensive) treatment. At midnight on December 31, any unused benefits for 2015 vanish, and dental insurance companies can make millions from consumers who never take advantage of their policies. Consumers may not realize that some dental plans even cover a certain dollar amount of dental services each year.
So what does dental insurance cover?
This will vary depending upon the specifics of the insurance you have, but typically, insurance will offer all or partial payment for:
All preventative care
This includes a cleaning two times a year, a checkup, and X-rays. Often, insurance companies cover preventative care at 100 percent, and patients only have to pay a deductible, which can range from $50 to $80, depending upon the policy.
Basic office procedures
This includes filling cavities and placing crowns. Most companies cover 60 to 80 percent of the cost of these procedures.
Root canals, tooth removal, oral surgery, and tissue biopsies fall under this category. Payment varies depending upon the policy.
Orthodontics
This includes retainers and braces.
Periodontics
These procedures manage infections or lesions and include periodontal scaling and root planning. The irony is that one of the main reasons patients don't follow-up on needed dental care is because of the associated costs…and many of those patients don't realize they have benefits they aren't using? Take advantage of all your dental benefits. If you're not sure of how much coverage you have, speak with your insurance representative or with the billing representative at your dentist's office. They'll be able to give you an idea about what is covered and what to expect. Don't let your unused benefits disappear on New Year's Eve!
---
Sources: Animated-Teeth.com. "Categories of Dental Services." Dentistry IQ. "Use Them or Use Them." National Association of Dental Plans. "What Do Dental Plans Normally Cover?"