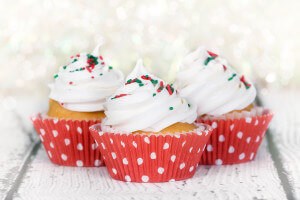 Healthier alternatives to favorite holiday treats: December is the time of year when everyone breaks out their favorite, traditional family recipes. However, nine times out of ten, these treats involve loads of sugar, which can wreak havoc on your teeth. So what exactly does sugar do to your teeth and what are some tasty alternatives to favorite treats? We have some helpful holiday solutions for you, as well as links to sugar-free recipes.
Feeding Time!
No, we're not talking about the gorgeous buffet table or the eggnog; we're talking about plaque. When you eat sugar, you "feed" plaque. Bacteria binds together to create plaque, and plaque uses sugar as a form of energy. So when you taste those holiday brownies, plaque also gets a wonderful snack. Even worse, sugar can act as glue by helping bacteria stick to the surface of the teeth. End result? It's harder to wash it away, creating the perfect environment for cavities. It's important to let your kids know that too many holiday treats can cause trouble down the line. For a kid-friendly website with wonderful dental information, visit Healthy Teeth. You can even encourage your kids to have better dental health through the holidays by letting them play the "Save the Tooth" game.
The Usual Suspects
From cane sugar to the dreaded high fructose corn syrup, sugar seems to be everywhere in the American diet. Even natural foods such as honey or fruit juice can contain additives in addition to naturally occurring sugar. The American Dental Association states that the following are the top sources of added sugar in the diet:
Soft drinks, energy drinks, sports drinks, 35.7%
Grain-based desserts (cakes, pies) 12.9%
Fruit drinks 10.5%
Dairy-based desserts (ice cream) 6.5%
Candy 6.1%
Ready-to-eat cereals 3.8%
Sugars and honey 3.5%
Tea (sweetened) 3.5%
Yeast breads 2.1%
Tips for Keeping Your Teeth Health During Holiday Eating
A healthier holiday doesn't mean a vacation from your old favorites; simply look for more creative and nutritional ways to make them. Following are delicious tips and great recipe ideas:
Keep on Keeping on!
Don't let the break from school or work become a break from practicing good dental hygiene. It's tempting with the rush to relatives' houses to let flossing fall by the wayside, but this is the time to be sure your healthy habits are stepping up to the plate. Be sure you're brushing your teeth long enough—two minutes is needed to remove sugars and food particles. Be sure to brush twice a day and limit between-meal snacks. Sipping on soda is hard on enamel, so opt for water or wiser food and beverage choices. Not only do fruits and vegetables help you feel "fuller," but they also contain vitamins that are great for tooth health. Vitamin C is needed for healthy gums and vitamin A is important for building tooth enamel. Whether you're planning a large family gathering or a quiet evening with close friends, these tips and treats can help you avoid cavities, and therefore, extensive dental treatment in the new year.
---
Sources: American Dental Association. "Nutrition." The Food Network. "Healthy Holiday Desserts." Nova Scotia Dental Association. "What About Sugar?" Zeratsky, Katherine, R.D, L.D. "Healthy Holiday Eating—Remakes of Favorite Recipes." The Mayo Clinic.