Dental Express celebrates Mother's Day 2021 by honoring the tireless efforts of working moms everywhere
Moms do it all.
They're providers, caregivers, role models, and even personal heroes, and their hard work never stops.
Between juggling their work life, family life, and responsibilities at home, they often put the needs of their loved ones ahead of their own without hesitation. And Mother's Day gives us the perfect opportunity to acknowledge and appreciate their selfless generosity.
For Mother's Day 2021, we're honoring the dedication of working moms across the country by sharing fun facts, personal stories from our team members, and more.
And if you've ever wondered what the average mom would get paid for all the daily duties she performs at home, make sure to stick around for the end of the article. The answer might surprise you!
The History of Moms in the Workplace
As you probably know, the role of women in the workforce has grown dramatically over time here in the United States. 
Back in 1945, women made up 28.6% of the workforce. By 2016, that number almost doubled, rising all the way up to 46.8%.
Naturally, the number of moms in the labor force rose with these numbers as well.
Just under half a century ago, in 1975, 54.9% of moms with children under eighteen years old were a part of the labor force.
By 2017, that percentage jumped up to 76%.
As moms' involvement in the workforce changed, so did maternity leave. In the 60s, just 17% of new moms went back to work before their baby's first birthday. After the turn of the millennium, that figure had skyrocketed up to 64%.
Over time, they started to catch up to men as the primary breadwinners of the family. According to Refinery29 and Chase, in 2018, women and working moms were the top income earners in 40% of American households.
This amount of progress is staggering, considering that back in the 60s, only 11% of working moms made the most money in the house.
These statistics are a testament to the hard work that millions of moms have put in for decades, striving to provide for their families and give their children the best lives they can.
The Working Moms of Dental Express
Across our six locations in San Diego, the Dental Express family is home to a number of hard-working moms that make up a crucial part of our team. 
From dental hygienists to assistants to members of the management team, these moms help cultivate the family-friendly, patient-focused culture that our patients have come to love.
In this article, we'll be featuring two of our doctors, but we love and appreciate all our devoted moms at Dental Express!
These two doctors serve as shining examples of compassion and commitment.
Both Dr. Pooja Patel and Dr. Danielle McCourt use their knowledge and expertise to improve their patients' oral health and provide an experience that leaves them feeling comfortable and cared for.
In honor of all their ongoing contribution to our fun, family-friendly atmosphere here at Dental Express, we'll be sharing a little of each of their stories below.
Dr. Pooja Patel
Growing up, becoming a dentist was Dr. Patel's childhood dream.
Her uncle owned a dental practice, and she was always amazed watching him work on his patients' teeth. She wanted to be just like him when she grew up. 
Then, in high school, Dr. Patel started shadowing at a family dental office. 
She quickly came to realize that dentistry was an art form, which allowed her to express herself and help people at the same time. She also really appreciated the work-life balance of being a dentist. 
So, she worked as hard as she could to make her dream come true. She completed her undergraduate degree at St. Louis University in Missouri where she grew up, and then went on to finish dental school at the University of Kansas City School of Dentistry. 
Now, Dr. Patel builds close relationships with her patients and helps create healthy smiles at the Santee Dental Express office. After work, she spends time doing what she loves most: taking care of her baby twin daughters Gia and Mya with her college sweetheart-turned husband. 
And of course, adventuring with her pet golden-doodle any chance she gets!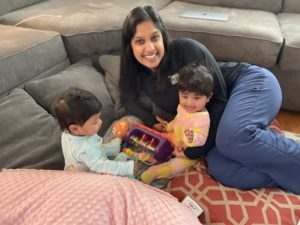 Dr. Pooja Patel with her twin girls, Gia and Mya.
Dr. Danielle McCourt
From a young age, Dr. Danielle always knew she wanted to do something in the medical field. 
So, when her sister – who's six years older than her – went to dental school, she was inspired. 
At that time, she was in high school, so she was able to watch her journey and see how much she loved it. Her sister's passion really got her thinking about dentistry as a career, and as they say, the rest is history.
Having grown up in Arizona, she took the opportunity to pursue her undergraduate degree in San Diego. Then, she attended the University of Texas in Houston for dental school.
At Dental Express Point Loma, Dr. Danielle is incredibly gifted at connecting with her patients and easing any anxiety they may have about dental visits.
And believe it or not, she also met her husband in college, and now they have a five-month-old son, Milo!
They love to spend time together as a family, go hiking, go to the beach, and cherish each other's company as often as possible.
Dental Express is lucky to have such genuinely caring and passionate people on our team. If you want to read their full stories or meet our other doctors, check out our Meet Your Dental Express Team page.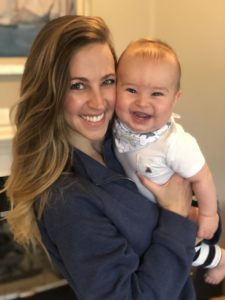 Dr. Danielle McCourt with her son, Milo.
A Mother's Salary
Of course, the joys of motherhood don't come without their stresses and challenges. 
Many moms pitch in around the house, fixing things, cleaning, handling the yard work, cooking, being the family accountant – all on top of their full-time jobs and duties as caregivers. 
Naturally, finding a balance can be difficult.
Wouldn't it be something if they got paid to do all that work at home and with the kids?
If they did, there's no question that they would earn every penny. But how much would that motherly salary amount to?
The folks at Insure – considering all the jobs the average mom performs every day and accounting for changes in inflation – take a crack at estimating that income every year in something called the Mother's Day Index.
What is the Mother's Day Index?
"Each year, the Mother's Day Index assigns a value to all the home management jobs that primary caregivers do. From making dinner to helping with homework, solving sibling squabbles to planning summer activities (remember those?), the Insure.com team relates popular tasks to real-world job titles and calculates a salary based on the most recent wage information from the Bureau of Labor Statistics (BLS)."
To get an idea of the motherly duties they account for and the real-world jobs they equate to, here's a limited list from Insure's website:
Taking care of the kids → Childcare Worker

Helping with homework → Other Teachers and Instructors

Nursing wounds → Licensed Practical and Licensed Vocational Nurses

Driving → Chauffeurs and Shuttle Drivers

Family finances → Accountants and Auditors

Talking to kids about relationship problems → Mental Health Counselor

Yard work → Landscaping and Groundskeeping Workers

Assisting with education at home during the pandemic → Elementary/Middle School Teacher

And more…
As mentioned above, Insure then estimates the number of hours the average mom performs each of her duties per week and applies the appropriate wages based on data from the BLS.
So, what does the everyday mom's salary look like?
The Mother's Day 2021 Index
With the way the world has changed over the past year due to the pandemic, the working moms' duties have grown to include home education for children unable to attend school. 
All said and done, Insure estimated that the value of all the jobs the average mom performed in 2020 was around $116,022 a year.
Up from $93,920 last year, this is the first time the Mother's Day Index has hit the six-figure mark.
While this hefty chunk of change would be a nice annual bonus, we think it's far too low considering everything moms do for their families and friends. 
If you ask us, there's no price you could put on a mother's love and care.
Happy Mother's Day From Dental Express!
The data from the Mother's Day Index isn't just impressive. It's a testament to how much moms do for their families on a daily basis. 
In addition to their jobs, they perform over six figures worth of demanding, emotionally taxing work at home – all out of the kindness of their hearts.
To all the moms out there, we here at Dental Express salute you and wish you a Happy Mother's Day. Set aside some time to relax, unwind, and give yourself some credit. 
You deserve it!
If you have any questions about Dental Express or want to make an appointment, you can schedule online or give us a call at any of our locations in the San Diego area. We hope to see your smile soon.
Keep Reading
Women in Dentistry: A Story of Courage and Commitment
A Parent's Guide to Children's Dentistry
Dental Care During Pregnancy: A Guide for Expectant Moms