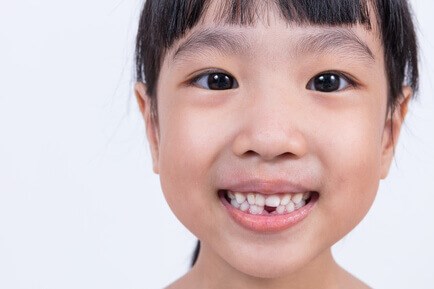 Top 10 Questions You Should Ask Your Child's Dentist: "Why?" If you have a little one, chances are you've heard this word 700 times a day. Children are full of questions, and sometimes adults are too. We always want our patients to feel free to ask us any questions—we're dedicated to providing the highest-quality dental care for your entire family. Check out these top ten questions you should ask your child's dentist. Remember, you can always ask your Dental Express dentist for more detailed information.
Ten questions you should ask your child's dentist
What should I use to clean my child's teeth?
The journey to a healthier smile starts when your child is young. Good oral health is so important at this age because you're setting the stage for good habits that will hopefully continue throughout your child's life. We recommend using a small, soft-bristled toothbrush that is specifically designed for children or infants.
Does thumb sucking hurt my child's teeth?
If your child loves to suck his or her thumb or the pacifier is a regular favorite, you should speak with one of our dentists. Whether it damages teeth depends upon how long it continues. In general, if these habits don't continue for too long, thumb sucking is not a problem. However, past age three, your dentist may have some recommendations to protect your child's teeth. If you're concerned, please ask us, and we'll be glad to discuss it with you.
How do I keep my child from being afraid of the dentist?
We don't ever want anyone—child or adult—to be afraid of the dentist. We understand that sometimes the noises and smells may make children uneasy. That's why we really would like a chance to get to know your child before he or she is scheduled for the first dental visit. This gives him or her a chance to meet our team. We have created a relaxing environment, and we honestly feel like our patients are a part of our extended family. You may want to check out our earlier blog on how to make your child's visit to the dentist more fun.
Is it safe for my child to have dental X-rays?
Dental X-rays pose very little risk. We go a step further and use faster film and digital X-rays, which means that you and your children are exposed to even less radiation than you would during a "normal" X-ray.
What if my child knocks out a permanent tooth?
Dental emergencies can happen any time. The first order of business is to find the tooth. When you find it, gently hold it by the crown (not the root) and try to slide it back into the socket. If that's not possible, put it in a glass of milk and get to us as soon as possible. We've also compiled a complete guide to dental emergencies you might like to have on hand for future reference.
Is my child getting enough fluoride?
To a large extent, this depends upon your primary source of drinking water. If your child drinks a lot of bottled water without fluoride, your dentist may consider fluoride supplements. One of our providers will be happy to speak with you and make recommendations.
How often does my child need to see the dentist?
In general, once every six months (the same as adults) is adequate. However, this isn't a hard and fast rule. We understand that different patients have different needs and your dentist will give you information about how often would be the most beneficial.
What do I do when my child has a toothache?
Rinse the area with warm salt water. If your child's face is swollen, place a cold compress on his or her face. Give your child an appropriate pain reliever, but do NOT place aspirin on the teeth or gums. Call us to schedule an appointment as soon as possible. There are several potential reasons for a toothache and we want to be sure there are no problems. Remember, we offer walk-in appointments as well.
What are dental sealants and how can they help my child?
A sealant is a thin coating of BPA-free plastic that "seals" back teeth to keep them cavity-free. Think of it as a clear layer of fingernail polish for your teeth that protects them from the acid that causes tooth decay. We do recommend dental sealants for kids certain ages.
If my child has a loose tooth, should we pull it?
Ah! The great debate: It's tempting to look at that loose, waggling tooth and want to help your child remove it, but we do not recommend it. Pulling it yourself can easily damage sensitive tissue. (We look at the topic more in depth on our blog.) We want to be partners in your care! Of course, this isn't an exhaustive list. We know how important it is to tailor each treatment plan to meet the needs of every patient, no matter what age. We're dedicated to taking time to answer any questions or concerns you have. It's just another way that our family is pleased to serve your family. Dental Express offers dental care for the entire family, including SmileCorrect, dental implants San Diego, emergency dental care and maintenance services. With four convenient locations in San Diego, our practice features compassionate care coupled with state-of-the-art technology. Contact us to schedule an appointment today.