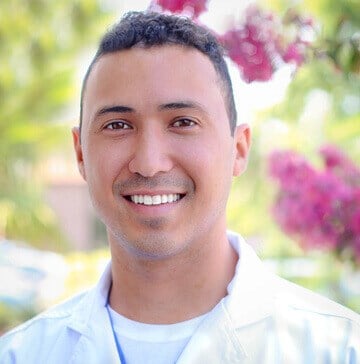 If you enjoy surfing along the California coast, don't be surprised to see our own Dr. Marty Weinstein catching a few waves. He's surfed just about every spot along the Pacific Coast Highway. His love of the ocean boils down to his three-word personal mantra: Surfing is life. In 2009, Dr. Marty was the National Collegiate Surfing Champion, and he served as captain of the UCSD surfing team. We're thrilled to now have Dr. Marty "on board" as a member of our Dental Express family. Of course, there's much more to Dr. Marty than his surfing expertise (though we admit, we're somewhat jealous of that). Originally from Santa Ana, Dr. Marty has a special heart for those less fortunate, and he is always striving to make the world a better place through his many volunteer activities. While earning his bachelor's degree in biology from UCSD, he managed a mobile dental clinic that provided free dental care to the homeless and underserved populations of San Diego County.
Today, he continues to work with the same program by volunteering as a clinical faculty instructor. Dr. Marty also loves caring for the brave men and women who have served our country. After he earned his Doctor of Dental Surgery degree from the University of California-San Francisco (UCSF), he spent an extra year in graduate school training with the VA. This additional training gives him special expertise in helping U.S. veterans suffering from depression, severe dental anxiety, PTSD and other medical conditions. Although Dr. Marty spends a lot of his free time surfing, lately, he's been making waves on an extensive research study involving tacos and donuts. You read that right: tacos and donuts. Dr. Marty is engaged to Morgan, a kindergarten teacher here in San Diego. They're busy planning their July 2018 wedding, which will take place in Julian, CA. The food for the reception was an obvious choice; you can't go wrong with tacos and donuts! Of course, this reception planning requires a lot of "research and development" on the weekends to find the ideal combination. Donuts and tacos — it's no wonder Morgan said yes!
Want to know more? You can learn more about Dr. Marty and our other Dental Express care providers.
___ Dental Express offers dental care for the entire family, including SmileCorrect, implants, emergency dental care and maintenance services. With four convenient locations in San Diego, our practice features compassionate care coupled with state-of-the-art technology. Contact us to schedule an appointment today. ___