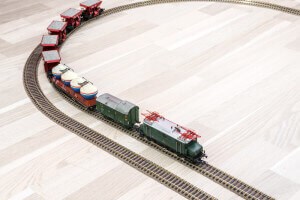 How to "train" your kids for better dental health: We admit, the bright, art-deco style and train make our practices stand out. Even our waiting room has a toy train rounding the tracks every three minutes! But we don't want just our décor to stand out—we want our service to stand out as well. Why trains? Because the locomotives not only create a kid-friendly environment, but they are also a teaching device to help your kids learn about the benefits of good oral health. Simply use the acronym TRAIN to help children remember the essentials.
T stands for "teeth"
Don't just tell your children to brush their teeth; let them know why dental health is important. There are plenty of kid-friendly educational websites to help you – such as this one featuring a "To Tell the Tooth" quiz game.
R stands for "reach"
It can be challenging for little hands to direct the toothbrush for cleaning back teeth, but it is essential that they reach all of their teeth to keep them clean. The American Dental Association's "ambassador"—Dudley the Dinosaur—has a wonderful song about brushing and flossing. You can listen to it here. Even better, make it a part of your young one's routine.
A stands for "always"
Yes, flossing can be difficult for younger children, but it's something they should always do. When food gets caught between teeth, it sets the stage for plaque and, eventually, cavities. Here are some helpful tips for teaching your kids how to floss:
Make sure you use softer dental floss that won't hurt gums.
Remove 18 inches of floss from the roll, thread it around a finger on each of your child's hands. Show him or her how to roll the used floss. (Be sure he or she isn't holding the floss too tight!)
Guiding your child's hands, make a "c" shaped curve around each tooth and show him or her how to move it gently up and down to remove plaque.
Be sure to be gentle!
You may wish to reward your child with a small, dental health treat.
Remember, your dental hygienist can provide additional education for your child at his or her next dental appointment.
I stands for "inspect"
In some ways, the pediatric dentist is like a detective. He or she wants to look in your mouth to see if there are any cavities. Dentists inspect the teeth to uncover any problems. By clearly explaining the role of the dentist, you can help ease your child's fears. You may also play a game where you use plaque disclosing tablets to help your child "inspect" and investigate where he or she needs to brush.
N stands for "nutrition"
It may be a big word for some little ears, but it's never too early to teach the importance of a good diet—and how that affects teeth. Healthy snacking can be particularly challenging, so be sure to limit the amount of soda, juice or other sweetened beverages your child consumes. So, in short, one more time:
T is for teeth
R is for reach
A is for always
I is for inspect
N is for nutrition
Our Art Deco locomotives are not only about making our clients comfortable. They're also a reminder that we are a "one-stop" for your family's complete dental needs. Besides, who doesn't love trains?
---
Sources: Schwab, David. San Diego Community News Group. "Dental Express Keeps Oral Care on Track" American Dental Association. Mouth Healthy. Org. "Mouth Healthy Kids."