Believe it or not, Dr. Rachel was afraid of going to the dentist when she was young. When she left for college, she was worried that she wouldn't keep up with her regular dental appointments without her parents making her go. So, she became a dentist to conquer her fear! Dr. Rachel takes a problem-solving approach when creating treatment plans for her patients. She carefully addresses their dental needs and history to build the right plan for their ideal smile. When she's not creating smiles, Dr. Rachel loves going to concerts and hiking. She's also a talented painter, and she loves creating portraits of her friends' pets as gifts.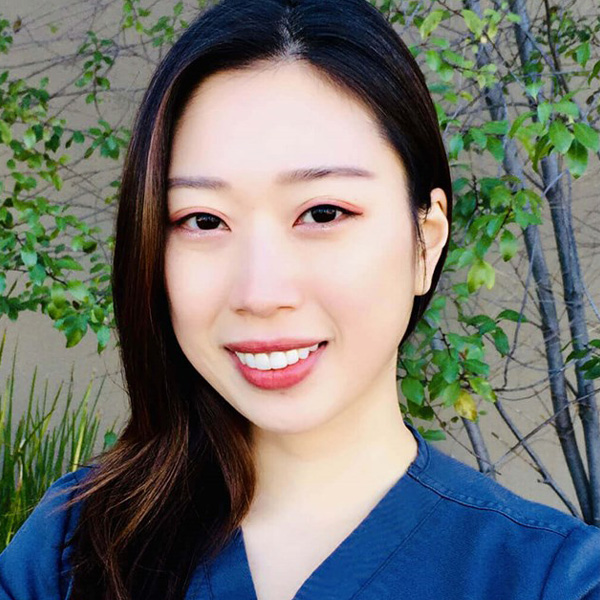 Why did you become a dentist?
Well, it's kind of a funny story. I didn't have great teeth growing up and I didn't like going to the dentist. I was afraid that if I didn't become a dentist, I would have bad teeth problems later on in life. So, I studied dentistry and became a professional to take care of my dental health. For me, it was a way to conquer my fears. And since I know what it's like to be an anxious patient, it helps me provide a more comfortable experience for my patients.
Where did you go to dental school?
I was born in Seoul, South Korea, and I lived in Germany for 5 years because my dad's work sent him there. I actually used to speak German. But I completed my undergraduate career in the states at the University of Washington in Seattle. Then I went to University of Nevada Las Vegas for dental school. After dental school, I moved to Texas to start my career. I stayed for three years, tried it out, got over it, and realized I wanted a beach and mountains close by without too much traffic. That's how I ended up in San Diego, and I've been here for four years now.
What is your favorite part of your dental practice?
I love making sure my treatment plans are patient-specific. I always talk with my patients to learn their story, and then create a treatment plan tailored just for them. Ideally, I want to be able to do everything they need. I like the challenge of creating the best plan for each of my patients, and everyday is a new day and a new challenge.

I love building relationships with my patients too. It's always nice to recognize them outside of work and have rich interactions with them.

What are your passions outside of dentistry?
I love exploring nature, hiking, going to the beach, and painting. I even paint my friends' pets for them! That's my gift to my friends. Family time is also super important to me. My parents live abroad so I always cherish the time I get with them. We visit once a year to spend quality time together.
What do you enjoy most about working at Dental Express?
I like the support I get from the team. Everyone works for the benefit of the next person, and it makes for a great team dynamic. We're very close with each other, and we even hang out together outside of work. I've worked in other offices before and it's hard to find a team as great as ours. It makes working at Dental Express fun.

I also like the autonomy that I'm allowed within the office. I'm free to perform the kind of dentistry that works best for me, and it helps me feel fulfilled.

How do you help cultivate the Dental Express team?
I'm pretty hands on with my team, meaning I put a lot of time into helping, teaching, and making sure everyone is confident in their dental skills. I also lead by example. When we have down time, I try to go from the front to the back and chat with everyone on the team. Trust and relationships are everything. I stay as accessible as possible for my team, and I make sure everyone knows that when I'm free they can always come to me.
What would you say is the highlight of your career?
It's always a highlight whenever I have a patient who expresses their appreciation. One time, I saw someone on the Neighbor app post that they recommended seeing Dr. Rachel at Dental Express. Reading that felt so good, it made my day!

And I'm always learning. Every day I feel I'm gaining more and more knowledge and getting better and better.

Of Dental Express' five core values (integrity, empathy, adaptability, collaboration, and whistle while you work) which do you feel is the most valuable to you as a dentist?
Empathy for sure. We have to see things from the patient's perspective, which goes back to what I said earlier. The goal is to build the treatment plan around the patient's needs and desires. I'm always doing my best to work with them directly and find their ideal path to a healthy mouth. That's why empathy is so important.
What is your greatest challenge working as a dentist?
The day to day challenge is more about changing patients' preconceptions about dentists and dentistry as a whole. Our goal is to restore health and prevent pain and relieve pain. And dentistry isn't supposed to be painful! But a lot of patients hesitate because of that fear. Once they get a treatment almost all of them say that was way better than expected.
My dad. He has such an uncanny work ethic and attitude towards life. Every day, he's the first one into the office and the last one to leave, and this was such a great example for me growing up. He always says, "The things in life worth having aren't always easy to achieve." These words stuck with me, and they help me get through life's challenges and continue achieving.