Imagine being in a tiny space underwater for more than 50 days!
That was a regular part of Dr. Jamie Ferguson's life during his 10-year tenure in the Navy, where he worked in the submarine division as a sonar technician. A veteran of Operation Desert Shield/Storm, he joined the Navy when he was 18 years old, and was even on station when Russia fell. During his military career, he completed multiple deployments onboard nuclear-powered fast-attack submarines.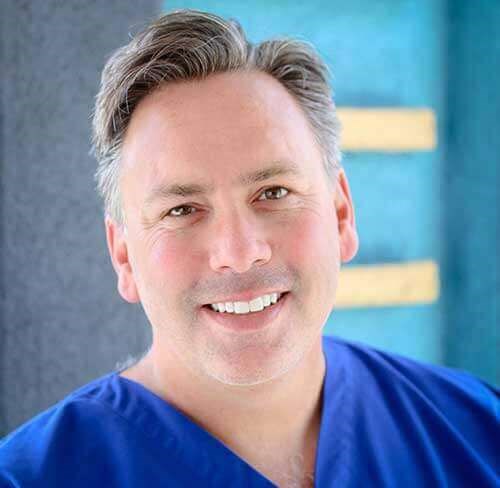 So what was it like to be underwater for 50 to 70 days at a time? Ask Dr. Jamie and he'll likely give you his trademark smile and crack a witty joke. "Submariners are real pranksters. When you're underwater for that long, you have to have a thick skin and good sense of humor," he said. "It's like having a MENSA convention at a biker bar!" Comments like that are just one of the many reasons our staff and patients love Dr. Jamie.
Inspiration to Study Medicine & Dentistry
While in the Navy, Dr. Jamie was in a bad accident that ultimately inspired him to go into medicine. After he was honorably discharged from the Navy, he completed his undergraduate degree at San Diego State University and later received his dental training at the University of the Pacific School of Dentistry—one of the most prestigious dental schools in the U.S. He graduated in 2003 and owned his own dental practice until 2009. While he loved working with patients, he didn't like being isolated, and he wanted to work with other dentists as a part of a dynamic health care team. When he learned that Dental Express was looking for a new dentist to join the team, he applied. He had a working interview, and we were so impressed by his dedication, knowledge and his love for the profession that we immediately hired him! So, after a career change and a life aboard a submarine, what is the next adventure for Dr. Jamie?
Dr. Jamie's Bucket List
At the top of his bucket list is a dream 10-city whiskey/barbecue tour around America. (Is it any wonder he enjoys watching the Food Network?) Dr. Jamie loves his barbecuing, so please help us convince him to cook up a wonderful batch for all of the staff here at Dental Express. Dr. Jamie has been married for 25 years and has three sons, ages 13, 18 and 23. His oldest son just got out of the Marine Corps and his 18-year-old is enrolled at San Francisco State. Dr. Jamie is a member of several professional organizations, including the San Diego County Dental Society, the California Dental Association, and the American Dental Association. In addition, he's also Chief of Academic Affairs for California Dental Certifications, a San Diego-based dental assistant training program. He volunteers as a lecturer for the San Diego State Pre-Dental program. In his spare time, he coaches Little League, enjoys sailing – and is in the process of getting his skipper's license. He's also a huge fan of paddle boarding. We'd like to take a moment to thank Dr. Jamie and his family for serving our country. We are also sincerely appreciative of all that he does to help make our community a healthier, more vibrant place to live. As for his barbecue adventure, we'll keep you posted. Maybe we can convince him to write a blog about his "bucket list tour," so stay tuned…